Ceramic ball
PRECISION BALL
MetalBall is a french manufacturer of high precision ceramic balls (silicon nitride ball -Si3N4 ball) for ball bearing and ball screw. Our manufacturing process can obtain a higher surface quality than the current standard. In addition to our visual inspection, we can perform a fluorescent penetrant inspection (certified NADCAP) to guarantee the absence of "C-crack".
We are also able to supply aluminium oxide (Al2O3) and zirconium oxide (ZrO2) balls.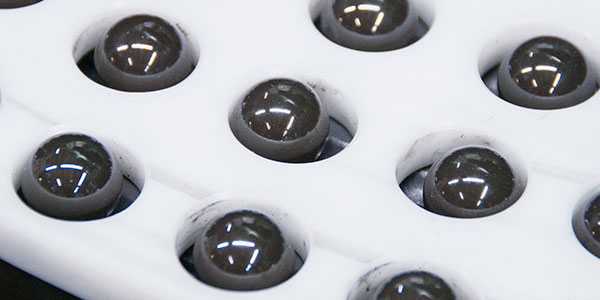 Material  
Ceramic grade 
Density (Kg/dm3)
Hardness
Ceramic balls
Silicon Nitride Si3N4 balls – Class I ASTM F2094
3,26
1400-1600 HV
Alumina Oxide – Al2O3 balls
3,90
1250 -1700 HV
Zirconium Oxide -ZrO2 balls
6,00
1200 HV
Silicon Carbide -SiC balls
3,15
2200-2800 HV
For industrial applications we can supply the balls via our Supply Chain. In all cases, each batch is validated by our certified quality system based on aeronautical requirements..
A technical query, a quote, stock availability? Contact us on +33(0)5 63 27 77 21 or via our contact form