Alloy tool steel ball
PRECISION BALL
Alloy tool steel balls have an excellent fatigue resistant at high temperature. Two types of standards can be distinguished:
– M50 balls for aerospace ball bearings : we use AMS 6491 (VIM-VAR) material and the heat treatment is certified NADCAP.
– M2, T15, M62 (CPM® REX® 20) balls for X Ray Tube ball bearing. Our manufacturing process can reach high quality surface (Grade 3)  in order to get a low noise level under normal condition.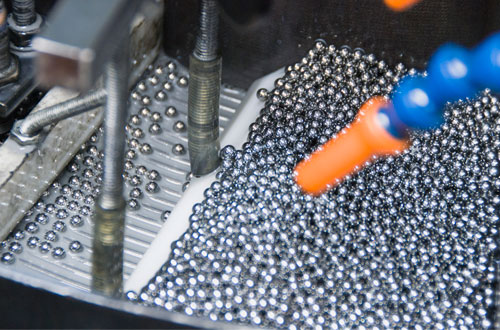 Material
Steel grade 
Density (Kg/dm3)
Hardness
Alloy tool steel ball
AISI M50 ball AMS 6491
 7,80
60-65 HRC
AISI M2 ball (HS-6-5-2)
8,10
62-65 HRC
AISI T15 PM ball
8,20
65-68 HRC
AISI M62 PM ball (CPM® REX® 20)
8,17
 62-65 HRC
For industrial applications we can supply the balls via our Supply Chain. In all cases, each batch is validated by our certified quality system based on aeronautical requirements..
A technical query, a quote, stock availability? Contact us on +33(0)5 63 27 77 21 or via our contact form